Hi :) Well the conclusion to my first projects has come - the bunk bed is done and the bookshelf is also done. The bunk bed is not set up like a bunk, just 2 twins until the munchkin gets older, but it's still done, just no ladder. :).
What do you think? If you click on it, you can see it extra big (normally you can't with my blog pics cause I use photobucket cause it gives me more space)
All in all it went well. It was a giant pain in the butt not having my own space to work in and having to coordinate between Joey's house and what I could accomplish on my dining room table and my back patio. Next project we definitely cannot use spray paint for a clear coat because some jerk above us in the building complained to management about the fumes. lol.
I had a few snags along the way, but everything is pretty square and level, and we have a lot of scraps that hubby was able to make into a couple planters, so that's good.
Now that the beds are done he can then concentrate on his project, the aquarium stand that he's building at a friend's house.
Here are some more pics of the bed and then you'll see what is on deck for the next project :). (If you click these they won't get any bigger lol)
The "top" bunk & bookshelf
Her "secret castle" bed tent for her "bottom bunk"
Bookshelf
And lastly, can you guess who's room this is? lol. No I didn't make the letters, they were from Walmart and the flowers and butterflies are the cling stick on ones from Dollar Tree. :)
Thank you
Ana from Knock-Off Wood
for the plans and all the help along the way :)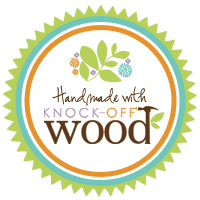 Now, as for my next project, I'd really love to make a new desk. Here is what i'm currently working with: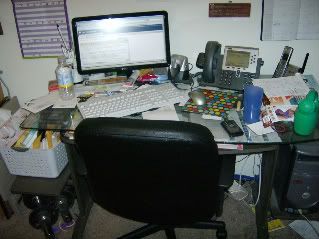 Clearly it's not working lol. I need more nooks and crannies to store crap and more desk space to put stuff, like Alyssa's toys she likes to put on my desk for some unknown reason and maybe my phone and monitor lol.
This would be a more expensive project so I can't start it yet, but I'm thinking maybe a mixture of a couple of
Ana's
collections. I really like the modular office system minus the corner desk (don't have the space) and I like the hutch like parts of the classic storage wall system.
Here's a couple shots of the modular set. I want one CPU base and one drawer base and then just a straight desktop, no corner. I really like the secretary desk but it's just too big.
(Click here to get to the plan)
And here is the hutch style top for the classic storage system desk or media wall
(Click here for plans)
But I also need a solution for a printer table and for some books so I may make another alteration and make a 3rd or 4th bottom cabinet that sits sideways. Maybe I'll take the bottom half of the secretary desk and spin it at a corner and make a deep cubby out of it or something.
But anyway, that's the next project for me, when I get the time and the funds. I don't have a table saw and I'm kinda not all that enthusiastic about using a circular saw to cut a straight line - I'm not known for having a steady hand and I don't trust home depot or lowe's to cut anything. But we will see :)